It may not have actually been Sir Francis Bacon who said it, but knowledge is indeed power. It is, in general, for sure, but even more so in marketing contexts. Digital marketing competition has become so fierce that marketers can't afford to overlook valuable, actionable insights. And who has more useful insights than the very customers they're targeting? We'll argue that marketers may use customer data for more efficient marketing, from marketing basics to massive omnichannel strategies
First things first, to cement this argument, consider the following types of customer data available to marketers, among others:
Customer information. Customer Relationship Management (CRM) and similar software types can collect comprehensive customer data, from contact information to interaction history.
On-site behavior. Such tools as heat maps, Google Analytics, and other analytics tools can collect data on customer behaviors on one's website.
Direct feedback. Perhaps the most direct kind of voluntary input, customer feedback gathered through surveys, polls, social media activity, and other methods, can be equal parts expansive and useful
It should go without saying that all of the above can see great marketing uses. A customer's history can inform subsequent communication; on-site behavior can inform website optimizations; feedback can reveal outreach shortcomings. TechTarget illustrates this first step of customer data integration as follows: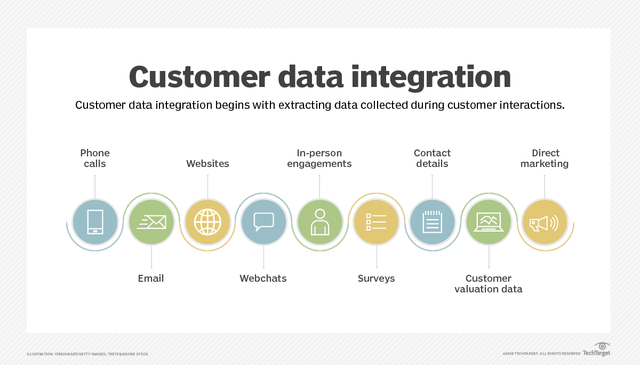 Each type of customer data requires different tools to collect and different analytical lenses to extract value from. But to keep this article brief and digestible, we'll primarily delve into the action – putting data to use.
Ways to use customer data for more efficient marketing
On that note, let's get right to the main subject. While there are many ways to use customer data effectively, many will depend on your activities, business, and offerings. So here, we'll cover four universal ones, hopefully inspiring you to explore adjacent ones in due time.
#1 Personalizing marketing
Perhaps most importantly, modern digital marketing requires personalization. Audiences don't care much for irrelevant product recommendations, an outreach of little value, and traditional "salesy" marketing. In turn, marketers have to make it more personal – as data shows: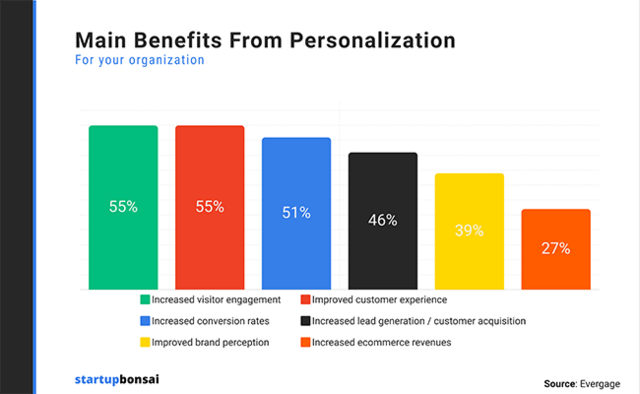 Thankfully,  customer data makes this substantially easier. Marketing personalization is, of course, a vast subject, so you may begin by considering the following examples:
Email personalization. Customer data can enhance your email campaigns beyond simply using your recipient's name. For example, audience segmentation can reveal optimal sending times, which you can then automate. Your recipients' history with your business can inform offerings, tone, and more, as can their information like birthdays and anniversaries. Even email engagement metrics like click, open, and respond rates can reveal opportunities for personalization.
Product recommendations. Perhaps the simplest, most famous form of personalization lies in product recommendations. Recommendation personalization shines in eCommerce, but not exclusively so; consider how purchase histories can inform cross-sells and upsells. Nothing personalizes your marketing tactics, let alone benefits your bottom line, like presenting your customers with relevant offers does.
Personalized content. Along the same lines, content personalization offers another way to use customer data for more efficient marketing. You may begin by segmenting your newsletter audiences to achieve this, making your outreach more relevant and valuable. But you can also consider truly personal content, such as annual reels that use your customers' names and history.
How exactly you approach such strategies will depend on you, but the proverbial sky is the limit here.
#2 Improving content marketing
Having touched on content, you may also specifically fuel your content marketing using customer data. In line with the data above, Contently also finds that personalized content is demonstrably more effective: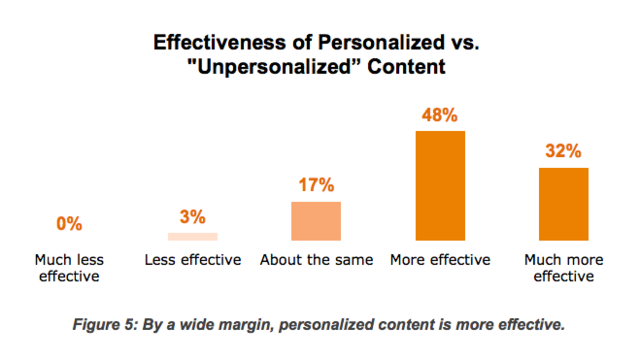 Following the increasingly prevalent need for personalization, you may first segment your customers based on factors like:
Demographics; age, sex, income, education, etc.
Psychographics; values, concerns, reasons for purchases, etc.
Technographics; access to and familiarity with technology
Then, you may refine and personalize your content marketing in such ways as:
Content recommendations based on browsing history. The simplest "related posts" plugins and widgets can handle this for you, but cookie-backed recommendations can truly craft a personal browsing session.
Content based on location. Customer location is a crucial factor to marketing effectiveness, so you may also deliver content based on IP location. If you're engaging in local SEO or PPC marketing, you may do the same with geo-targeting on that front.
Landing pages based on the referral source. From where your customers come to you is equally crucial as a part of their customer journey. Here you may customize landing pages for first-time visitors, depending on referral source, etc.
 If you want to use customer data for more efficient marketing, few areas offer as much creativity as content marketing.
#3 Crafting a solid customer journey
In turn, personalized marketing ultimately helps craft more robust customer journeys. From how customers first discover your business to how post-purchase interactions go, a pleasant customer journey will make all the difference between a retained customer and a lost one.
For a visual refresher of customer journey phases, we may offer the following by Semrush: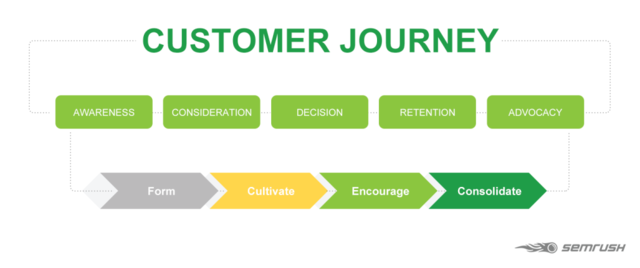 In this regard, too, customer data can pave the way to better customer journeys. To illustrate this, consider the following examples.
Crafting buyer personas. The richer your customer data, the easier it becomes to craft accurate buyer personas. Using them, you can better understand your customers' wants and needs, making it easier to market to them.
Addressing pain points. Especially through customer feedback, you may pinpoint your customers' pain points and cater to them more intensely. Anything your customers may perceive as a hindrance to their satisfaction, you may swiftly put under the microscope.
Improving customer service. Perhaps most importantly, customer service substantially informs customer loyalty. You may both personalize and improve your customer service with historical customer data, facilitating the flywheel sales model.
Especially if you intend to outgrow your current scope, such practices should offer some invaluable help. The larger and more complex your customer journeys become, the more vital it becomes that they genuinely satisfy your customers.
 #4 Optimizing your product
Finally, a key way to use customer data for more efficient marketing may lie in optimizing your product itself. Your efforts may begin with keyword research for better lead generation, but they may also have to touch on the final destination.
This may sound surprising, but after citing CocoDoc's SaaS app as a case study example, Databox finds this to be the primary use for customer data among their audience: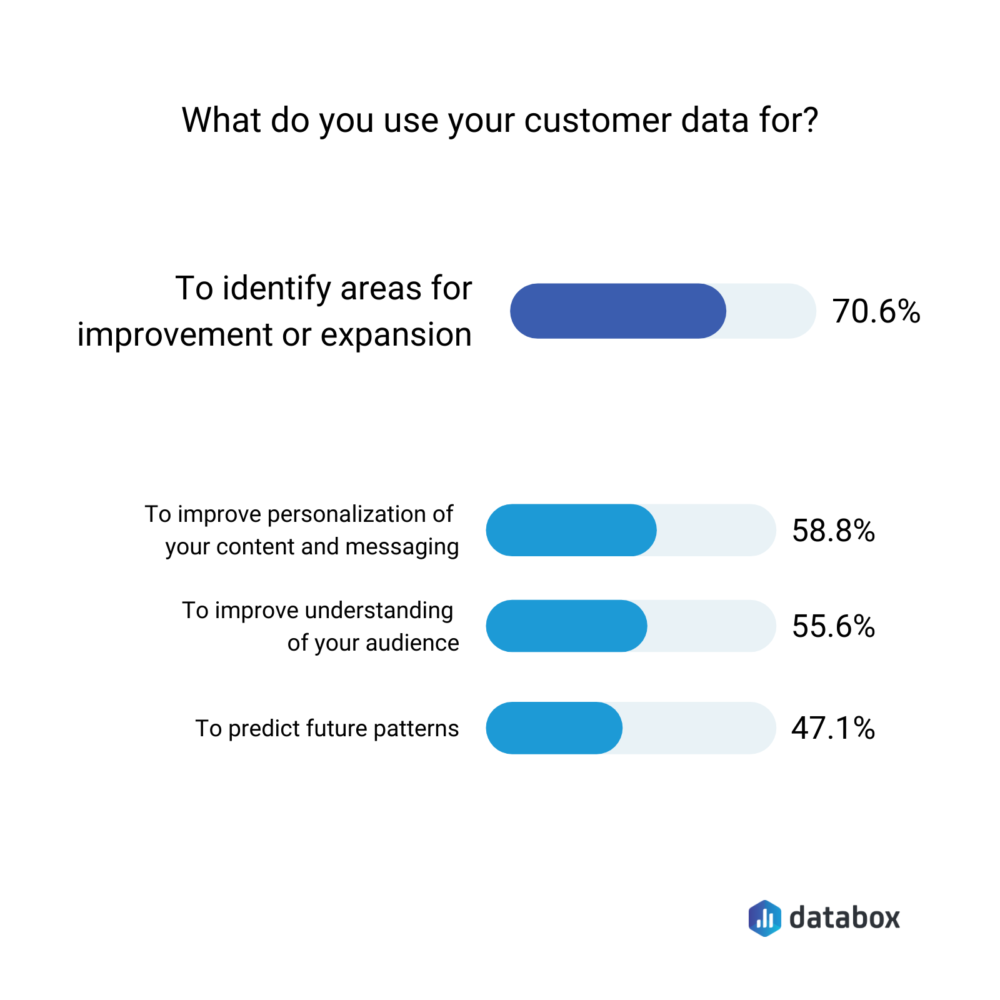 That said, how exactly you optimize your product will strictly depend on your product itself. In the context of apps, it may be feature additions, setup processes, onboarding experiences, etc. But in most cases, product optimizations can even include the basics, like:
Price points
Design
Documentation and instructional material
Of course, any changes to your product should come after serious deliberation. You should, by all means, strive to satisfy your customers. Still, you may first examine marketing optimizations like feature highlights, help desk resources, and so on before entertaining more hands-on refinements.
There are ample ways to use customer data for more efficient marketing. You may start with marketing personalization, including notable channels like email. Then you may enrich and personalize your content marketing, tapping into segmentation. You may apply the same principles to customer journey mapping before concluding with product optimizations where needed. Naturally, many such efforts will strictly depend on your own business and established strategies. Still, hopefully, their fundamentals should help inspire you to leverage your customer data in suitable ways that drive business growth.